In celebrating of 41 years in business, we have daily anniversary specials. Please call us for details, as specials change on a daily basis
BL Promos, problem solvers for organizations through the use of integrating promotional items,into a given marketing theme, to help reach a niche target market!
Featured Item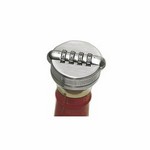 Solid Stainless Steel Combo Liquor/Wine ...
Perfect for securing premium wines and spirits. Locks up a bottle so that only the combination holder can reopen it. Instructions for using and changing the combo are included. 2 3/4" H x 2" Diameter
$15.10 - $18.49